2018 Air Show Performers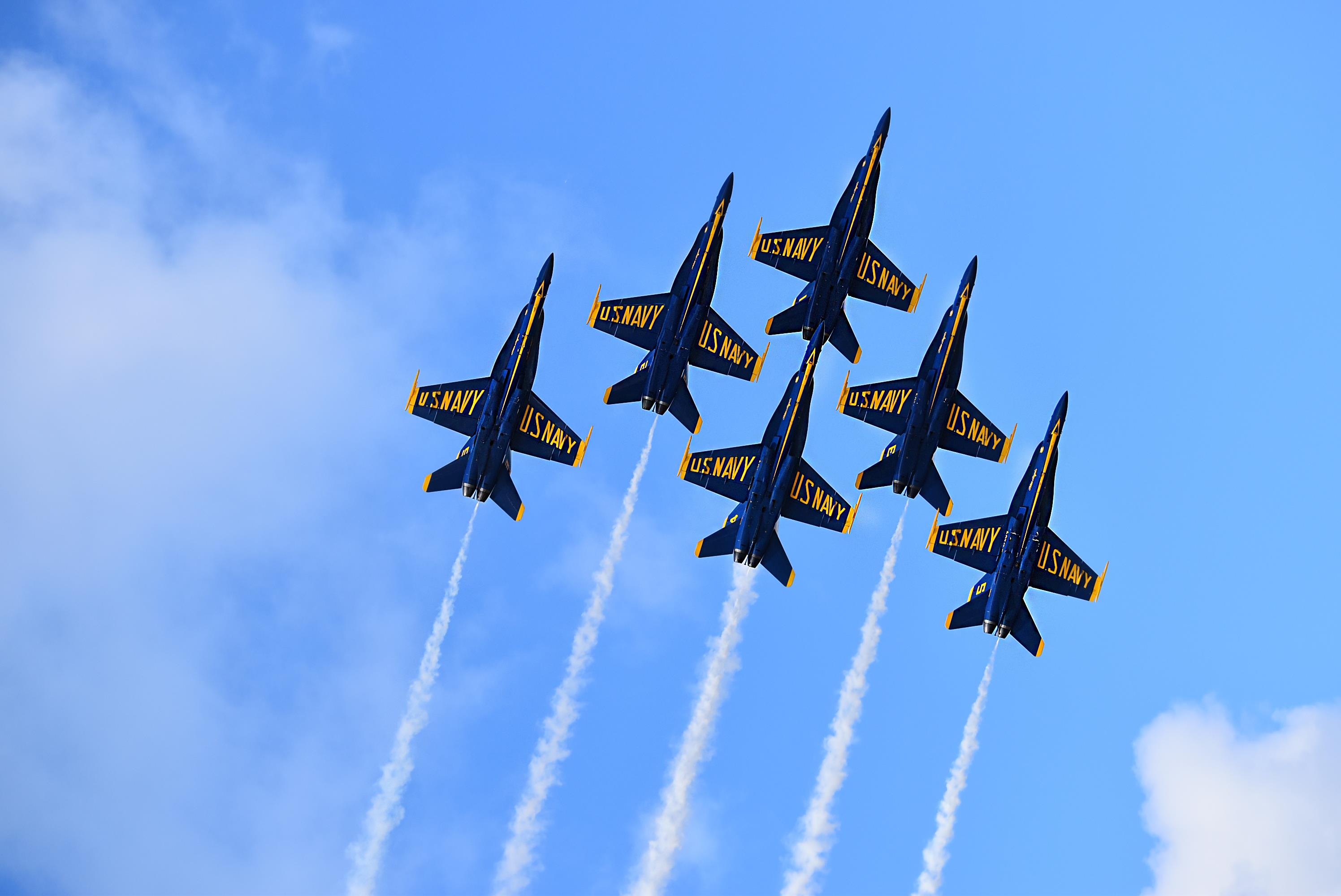 US Navy Blue Angels ®
The Blue Angels flight demonstration team is more than just a group of individuals; brought together to represent the United States Navy and Marine Corps. This team combines the best and brightest, at the top of their craft. Their camaraderie and chemistry assure the team mission is more than just a job – it's a passion!
Since 1946, the Blue Angels have flown for more than 260 million spectators. The team performs at both military and civilian airfields, and often performs directly over major cities such as San Francisco's "Fleet Week" maritime festival, Cleveland's annual Labor Day Air Show, the Chicago Air and Water Show, and Seattle's annual Seafair Festival.
During their aerobatic demonstration, the Blues fly six F/A-18 Hornet aircraft, split into the Diamond Formation (Blue Angels 1 through 4) and the Lead and Opposing Solos (Blue Angels 5 and 6). Most of the show alternates between maneuvers performed by the Diamond Formation and those performed by the Solos. integrated avionics, coupled with improved supportability, represents an exponential leap in warfighting capabilities.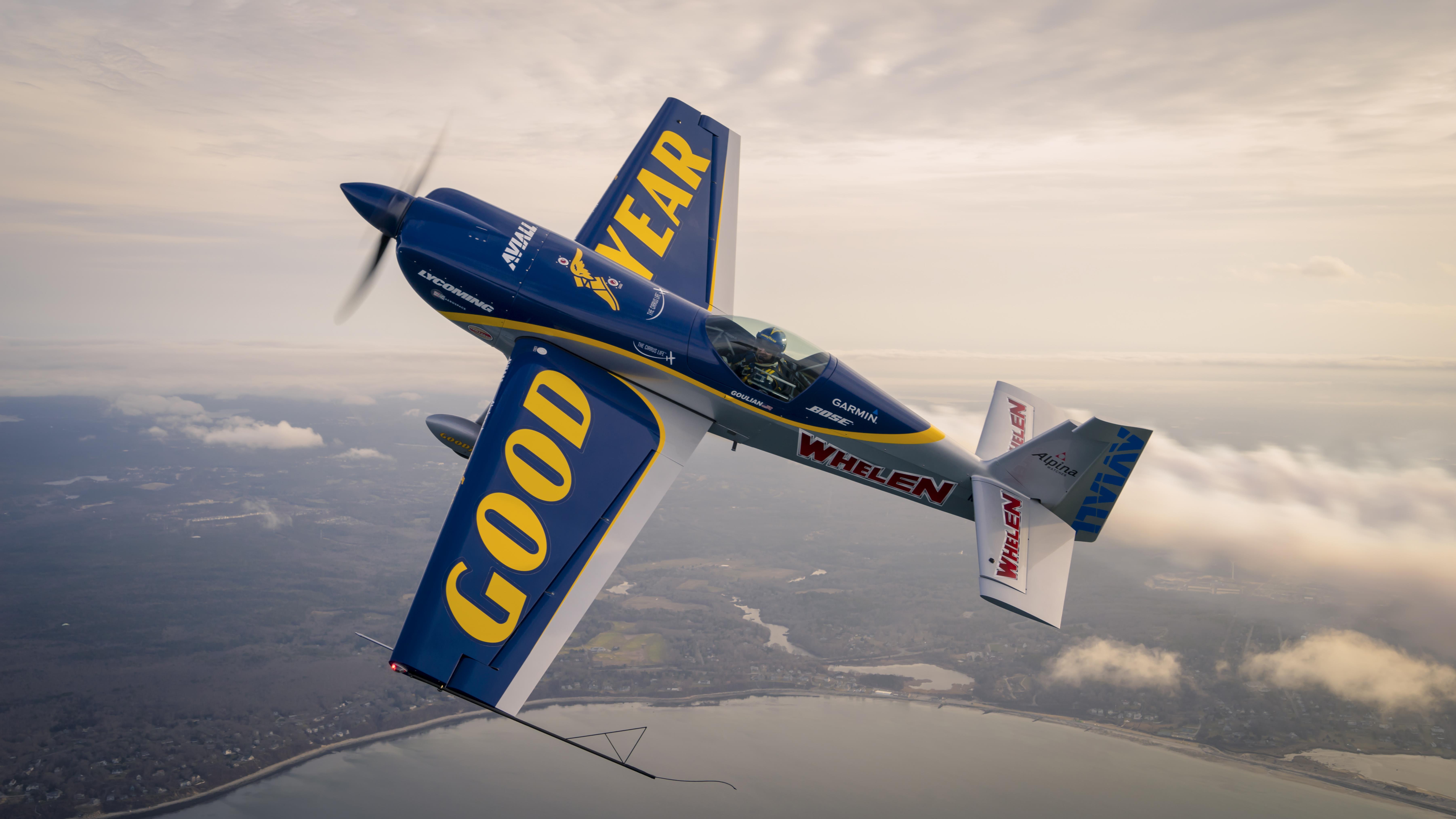 Mike Goulian

View Performer Site

Michael Goulian is a multi-disciplined aerial demonstration pilot. Beginning his career in the competitive world of aerobatics, Goulian earned the distinction of becoming one of the youngest pilots to ever win the United States Unlimited Aerobatic Championship at the age of 27. His signature air show performance combines the heart-stopping gyroscopic tumbling of modern display flying with the crisp, aggressive, demands of precision competition aerobatics. In 2006, Goulian joined an elite group of pilots competing in the Red Bull Air Race World Championship. Competing as Team #99, Goulian and his team are engaged in a battle of technology, skill, and execution against 13 of the world's fiercest competitors.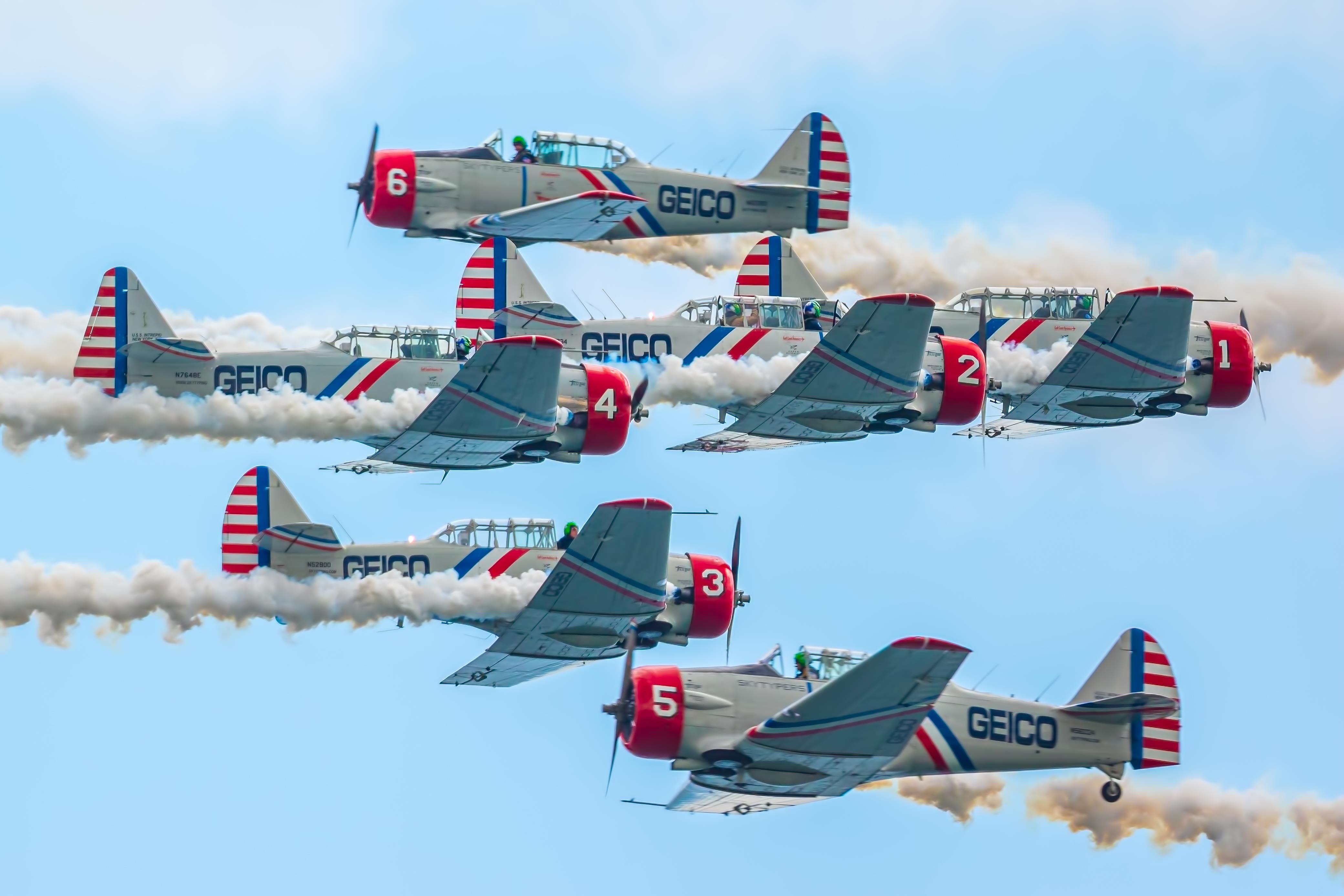 The Geico Skytypers

View Performer Site
The World Famous GEICO Skytypers Air Show Team is a flight demonstration squadron of six vintage U.S. Navy SNJ trainers based at Republic Airport in Farmingdale, NY. The team performs a thrilling, low-altitude, precision-formation flying demonstration filling the sky and coming from all directions to provide spectators a unique viewing experience. The performance showcases the tactical maneuvers initially taught to pilots during WWII, many of which are still utilized today.
The GEICO Skytypers also "type" giant messages in the sky. Skytyping is 17 times faster than skywriting and produces 20-25 characters in under two minutes. The messages are as tall as the Empire State Building, can extend up to 8 miles in length, and are visible up to 15 miles in any direction.
In addition to air show performances and skytyping, the pilots conduct regular appearances during air shows and with local community groups and youth organizations as part of their "Sky's the Limit" outreach program.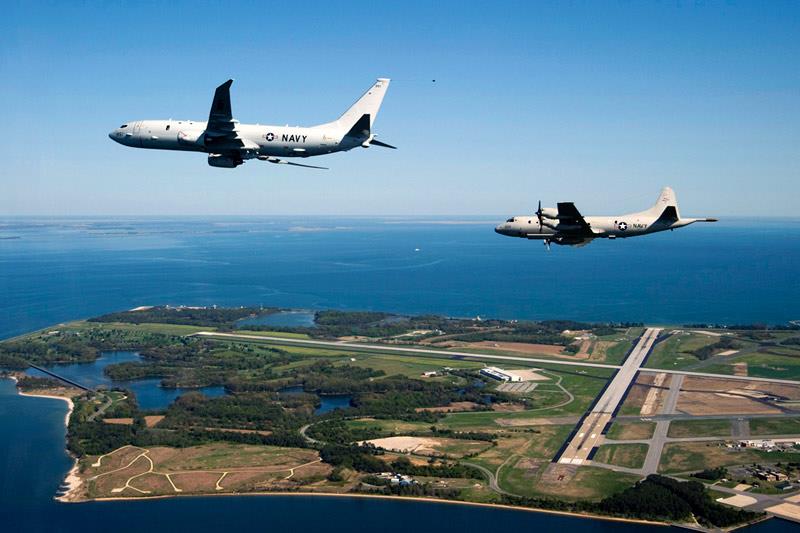 VP-30's P-8 Poseidon & P-3 Orion

The Boeing P-8 Poseidon is a military aircraft developed for the United States Navy. The aircraft has been developed by Boeing Defense, Space & Security, modified from the 737-800ERX. The P-8 conducts anti-submarine warfare (ASW), anti-surface warfare (ASUW), and shipping interdiction, along with an early warning self-protection (EWSP) ability, otherwise known as electronic support measures (ESM). The Lockheed P-3 Orion is a four-engine turboprop anti-submarine and maritime surveillance aircraft that was developed for the United States Navy and introduced in the 1960s. Lockheed based it on the L-188 Electra commercial airliner. The aircraft is easily distinguished from the Electra by its distinctive tail stinger or "MAD Boom", used for the magnetic detection of submarines. The P-8A Poseidon will eventually replace the U.S. Navy's remaining P-3C aircraft.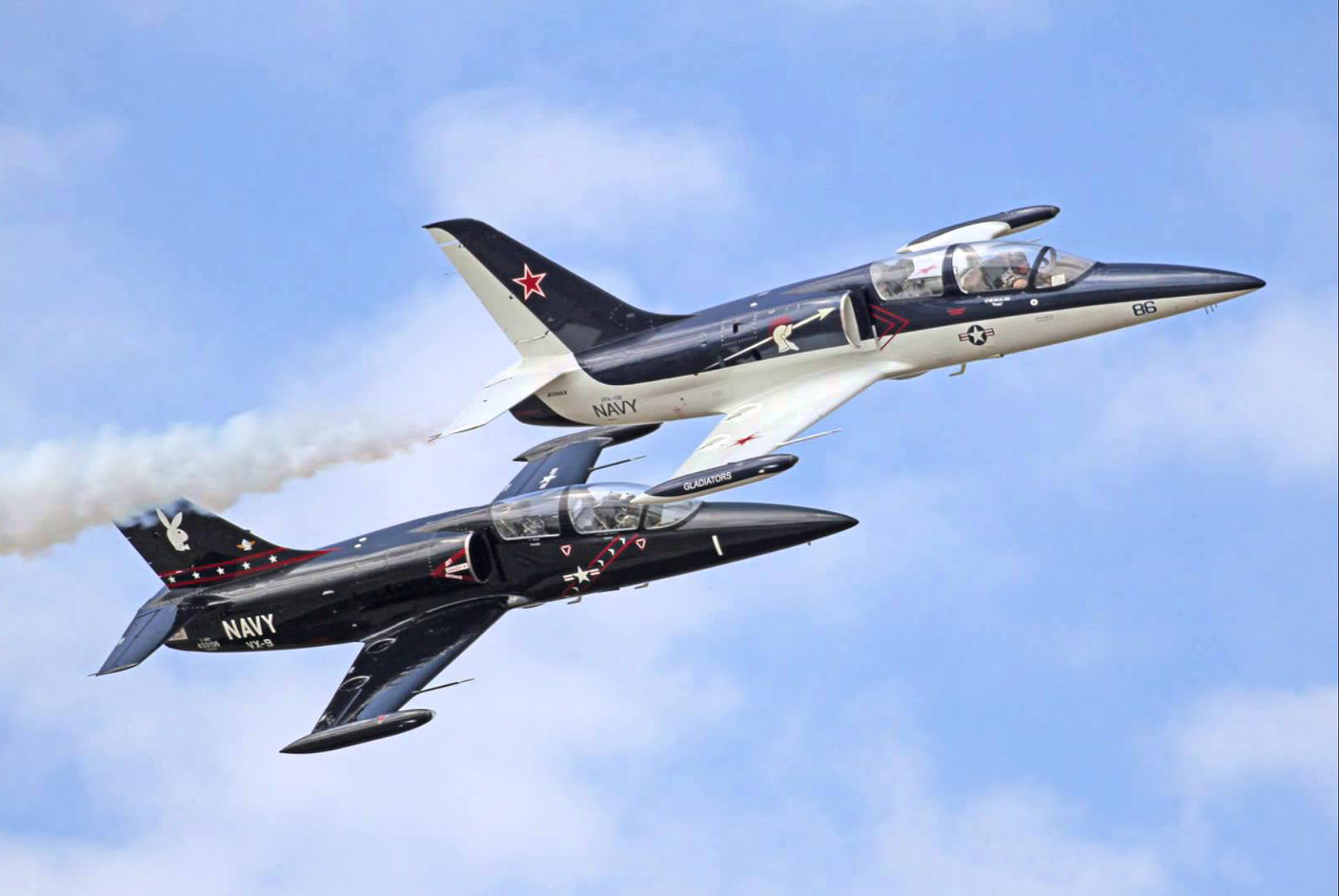 Warrior Flight Team
The Warrior Flight Team airshow demonstration team is the public outreach aspect of the organization. Through its efforts, the team raises awareness and funding for the scholarships presented to our wounded veterans. The Warrior Flight Team is a fast-paced, dynamic air show using single or multiple high-performance jet aircraft. Besides world class aerobatic maneuvers, the team offers one of the only demonstrations of Air Combat Maneuvering (dogfighting) on the air show circuit. With professional narration, customized background music, ground footprint, and merchandise sales, the Warrior Flight Team delivers a high energy, professional, and memorable performance to every venue.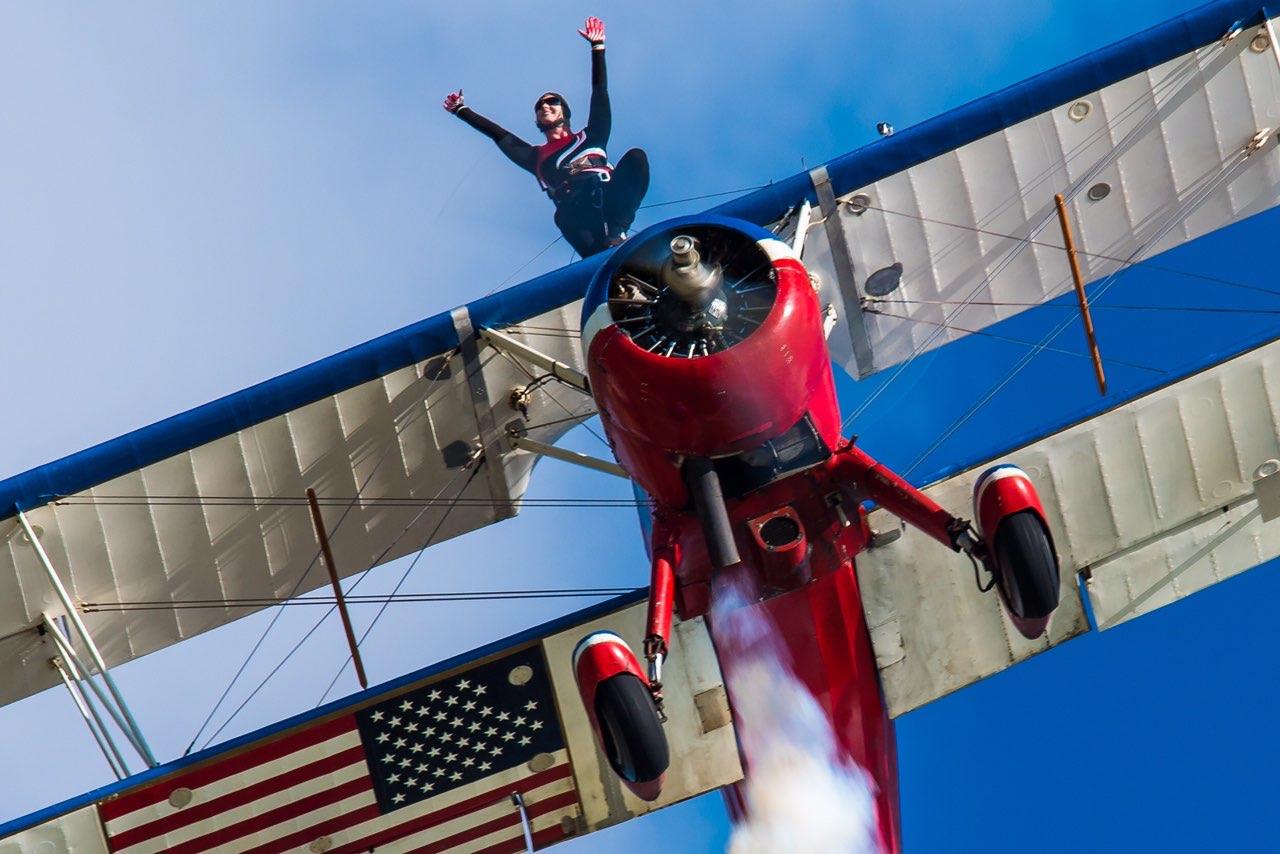 Greg Shelton & Ashley The Wing Walker

View Performer Site

Greg Shelton has been performing in air shows since 1990. His interest in aviation began at an early age watching fire bombers in northern California and listening to his father's adventures of flying fighter aircraft in the U.S. Navy. In 1982, Greg began flying lessons in a J-3 Cub, but before he finished his pilot's license he traded the Cub for a Starduster Too so he could pursue aerobatics. Greg's next aircraft was an AT-6 Texan project that would take him four years to completely restore. What originally started as a 1952 Canadian Harvard MK IV that served in the RCAF from 1952 until 1965, Greg's newly restored AT-6 was one of the most beautiful warbirds on the aerobatic air show circuit. He has also performed at air shows in a Yak 52. And from 1994 until 2003, Greg owned and performed in a Yak 55M. In 2003, he decided to add a wing walking act to his growing list of air show performances. He purchased a 450 Super Stearman painted in patriotic colors of red, white, and blue. Greg has wowed audiences all over the United States and abroad with his aerobatic wing walking routine. In December 2006, Greg sold his AT-6 to make room for his newest airplane, the FM-2 Wildcat. Much to the amazement of air show spectators, Greg performs a full aerobatic air show routine in the Wildcat. Greg has often been referred to by many as "one of the best aerobatic warbird air show pilots".
Ashley Shelton's passion for aviation started at an early age building and flying model airplanes with her father. After high school she pursued an art history degree and worked at an art museum in Tulsa, Oklahoma for 7 years. Looking for a bit more adventure, she decided to enlist in the U.S. Air Force as an air traffic controller. When a medical issue prevented her from graduating basic military training at Lackland AFB, she went on to complete her Associate's Degree in Air Traffic Control back home in Tulsa. Still wanting to pursue an opportunity to serve her community, Ashley took a position as a police officer at Tulsa International Airport, graduating from the Oklahoma Police Academy in 2013. She worked at the airport as an Airfield Operations supervisor for 4 years. Ashley recently began a new career with Ladd Gardner Aviation Insurance Company and is working to become an aviation insurance agent. A student pilot, Ashley completed her first solo in a Cessna 172 and has recently soloed her 1946 85HP Piper J-3 Cub. She feels there is no greater feeling than being a tailwheel pilot!

Rob Holland
Rob's rise to the top started as a young airshow fan in his native New England. Earning his pilot's license while still a teenager, Rob began flying aerobatics almost immediately, all while building valuable flight time and experience as a corporate pilot, commuter pilot, banner tower, flight instructor, ferry pilot, and operating his own aerobatic flight school. Now in his 15th year as a full-time airshow pilot, Rob has distinguished himself by blazing a trail of innovation, developing maneuvers never before seen at an airshows. "One of my goals is to take aerobatics to the next level," Rob explains. "I want to push the limits of what can be done." But while his impact and influence on the airshow community is undeniable, his remarkable skills at the controls of his MXS-RH are matched with a humble and approachable demeanor that has forged a unique connection with countless fans the world over.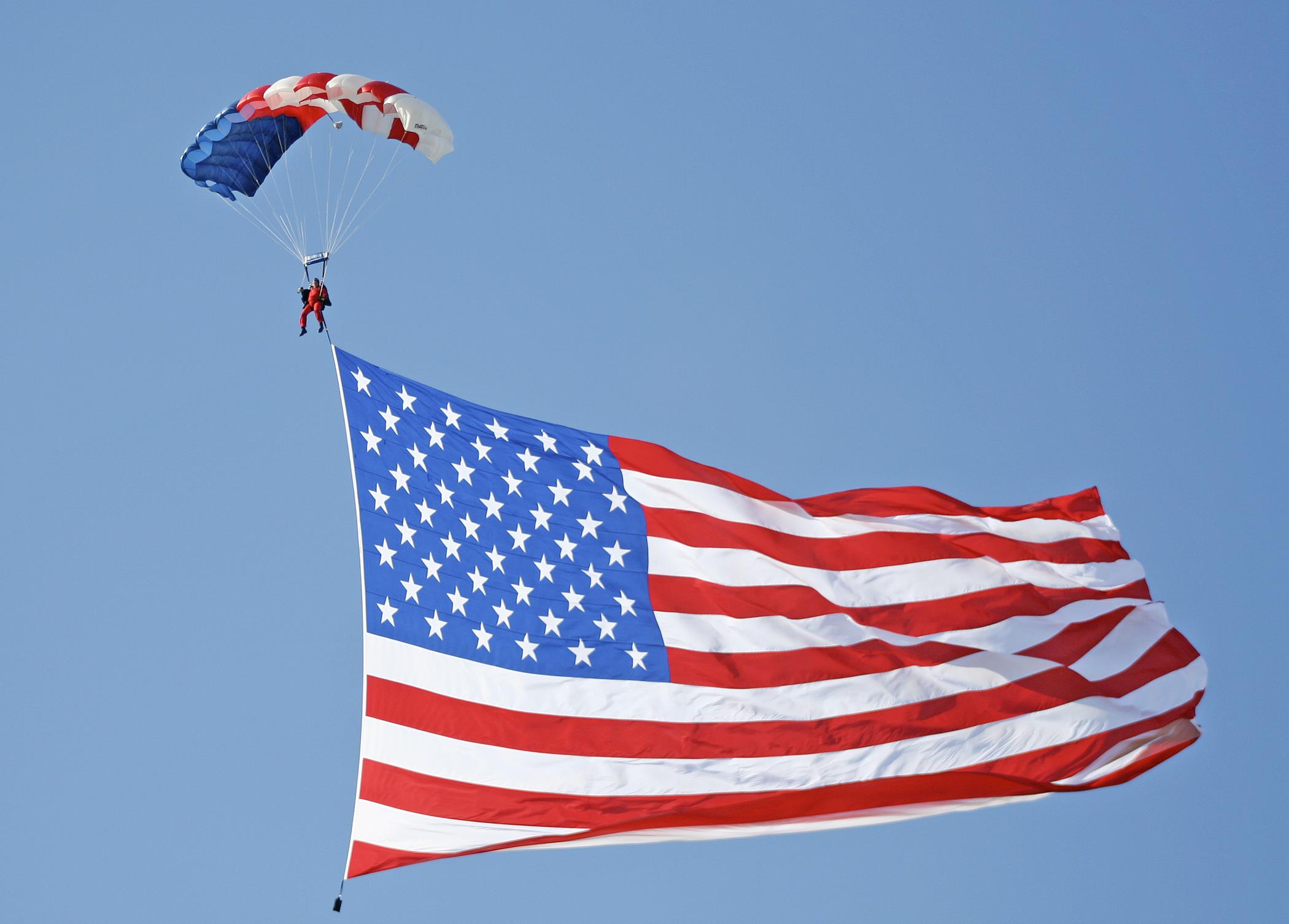 Paul McCowan Airshows and Skydiving Team

View Performer Site

Paul McCowan Airshows uses the best skydivers from all around the U.S and the world. With a combined team total of over 50,000+ jumps and 200+ years of skydiving experience. Paul started jumping in 1967 when he was a Green Beret in the United States Army. After leaving the army in 1969 he began sport jumping and turned a hobby into a business when in 1971 he formed Paul McCowan Airshows. For 8 years the team preformed daily shows at the amusement park Kings Island. To date Paul has over 10,000 jumps to his name with over 300 hours in freefall.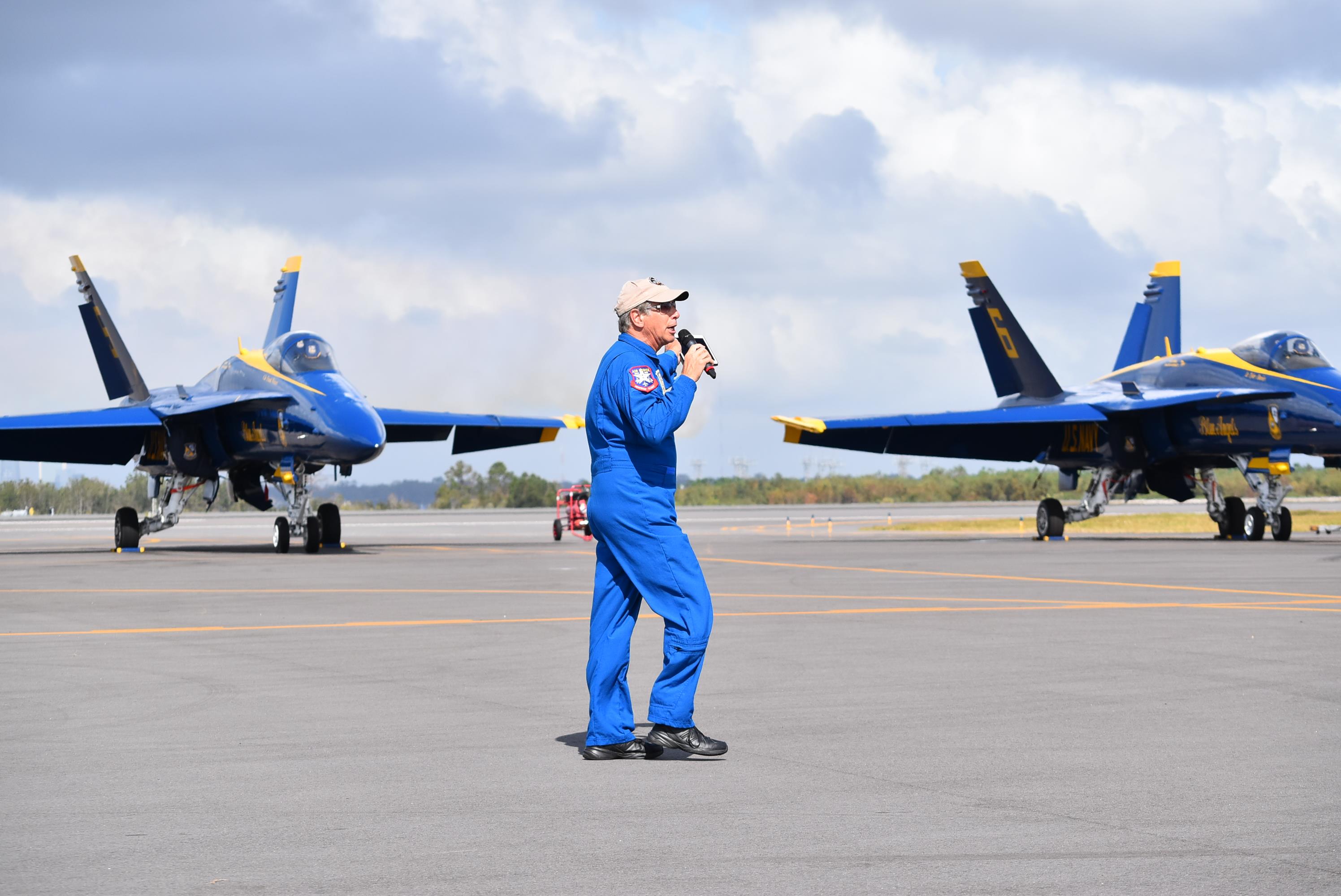 Rob Reider
Rob Reider is the most sought-after announcer on the North American Air Show circuit. His talents have earned him the highest award in the air show industry, the International Council of Air Shows "Sword of Excellence." A former midwest television personality, Rob received 5 Emmy awards for his on-air performance and musical compositions. Rob announced his first air show in 1978 and made it his full-time vocation in 2006. Since then he's announced over 275 shows from Maine to California to Japan.He's known in the flying world as the on-camera host of the award-winning, Sporty's Pilot Shops "Learn to Fly" videos. He's an aviation educator who's helped thousands of people around the world to earn their pilots licenses and advanced ratings.
One of the highlights of his career was in 2015 when he was selected to narrate the "Arsenal of Democracy Capitol Flyover," commemorating the end of World War II in Europe. At that event more than 50 vintage World War II aircraft flew over Washington, DC., honoring those who served and sacrificed for our freedom.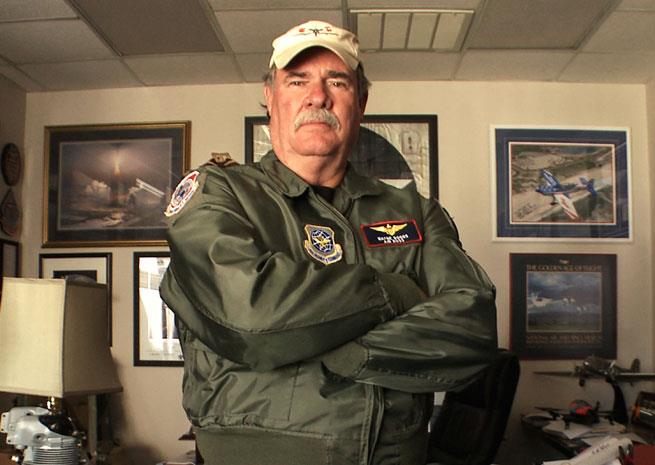 Wayne Boggs
Wayne's love of aviation began at a young age and he now has over 3,000 hours as a private pilot. His mother served as a Women's Auxiliary Service Pilot (WASP) during WWII. Her profession had a profound effect on his devotion to aviation. Wayne restored and currently flies the same type of plane, a 1942 Fairchild PT-19, that his mother used to instruct other pilots at Embry Riddle.
As the Air Boss, Wayne assists in the production and execution of approximately 18-25 air shows per year which is why he is recognized as one of the top Air Bosses in the country. Wayne also teaches advanced Air Boss courses and Air Boss for the International Council of Airshow convention (ICAS).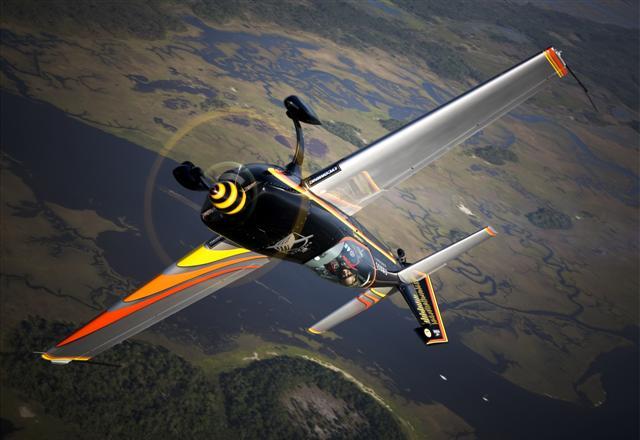 Patty Wagstaff
View Performer Site

To Patty Wagstaff, the sky represents adventure, freedom and challenge. A six-time member of the US Aerobatic Team, Patty has won the gold, silver and bronze medals in Olympic-level international aerobatic competition and is the first woman to win the title of US National Aerobatic champion and one of the few people to win it three times.
Patty, one of the world's top airshow pilots, flies thrilling, low-level aerobatic demonstrations before millions of people each year. Her breathtaking performances give airshow spectators a front-row seat view of the precision and complexity of modern, unlimited hard-core aerobatics. Her smooth aggressive style sets the standard for performers the world over.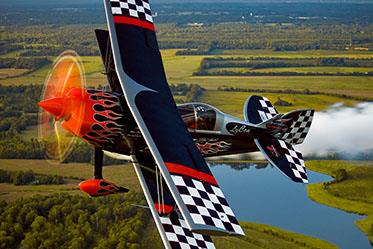 Skip Stewart
As the recipient of the 2013 Bill Barber Award for Showmanship and the 2015 Art Scholl Award, Skip Stewart has proven to be one of the most entertaining Airshow pilots in the world today. With over ten thousand hours of flying experience, being an Airline Transport Pilot, Boeing 727, and MD-11 Captain, a Certified Flight Instructor, having owned and operated an aerobatic flight school, earned Gold Medals in regional aerobatic competitions, served as Chief Pilot for a Fortune 100 company and with more than fourteen years entertaining airshow fans around the World, Skip feels comfortable saying that he is one of the very best in the business today.
Skip's flying has been featured in magazines that include Plane & Pilot, Smithsonian Air & Space, AOPA, Sports Illustrated, World Airshow News, Auto Pilot, as well as in multiple other domestic and international publications. Skip Stewart is the first pilot to fly an airplane under a jumping motorcycle at an Airshow and he also flies with several other pilots forming shows such as the renowned TinStix of Dynamite Act.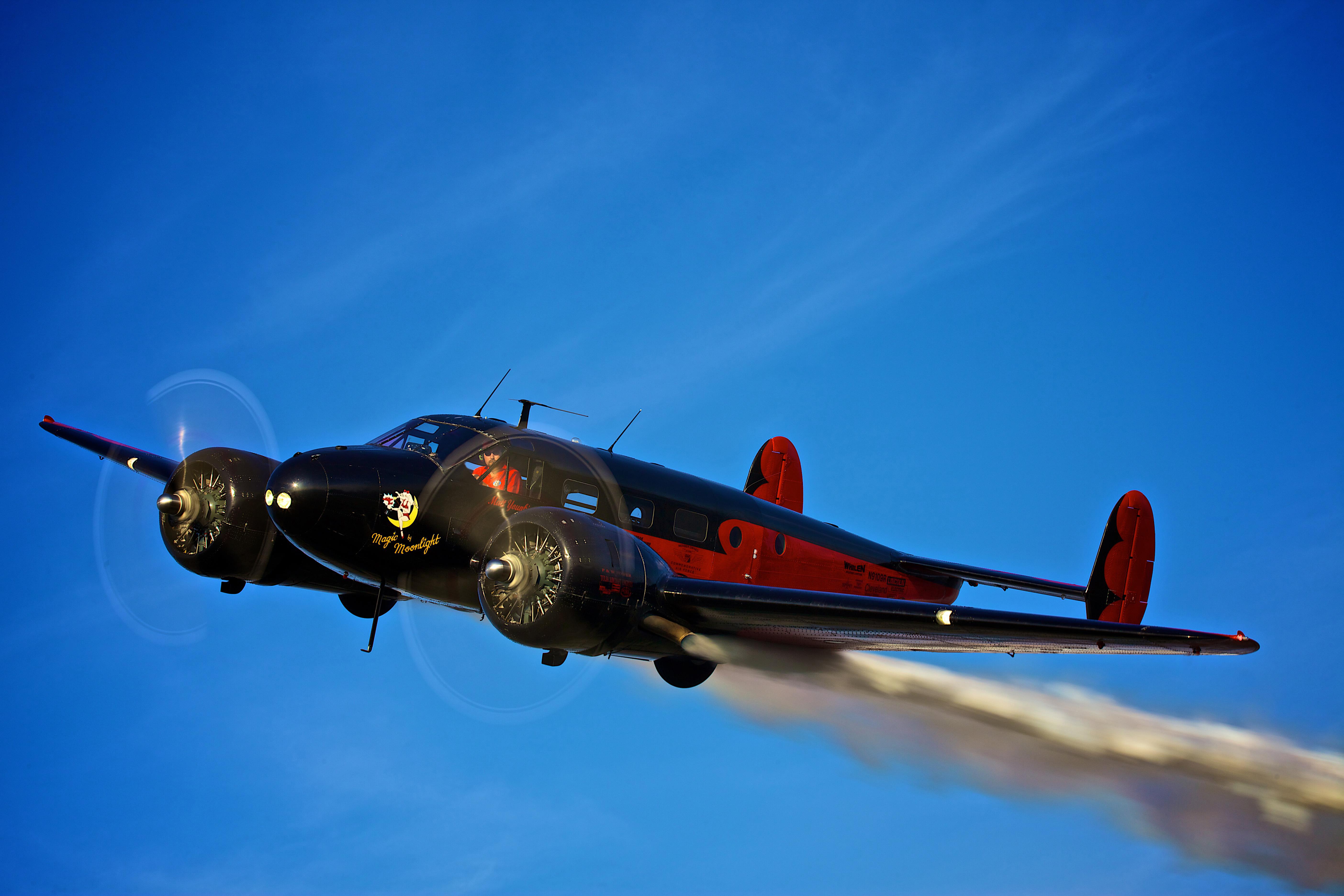 Matt Younkin

View Performer Site

Matt Younkin is a third generation pilot. He is the son of legendary airshow pilot Bobby Younkin, who is famous for his amazing aerobatic displays in the AT-6, Beech 18, Learjet 23, Samson, and most recently, the Super Decathlon. Bobby is considered to be one of the greatest airshow pilots of all time. Matt learned to fly at the age of 14 from family friend Ken Collier in a Piper J-3 Cub. At age 15, Chuck Irvin, the same instructor who taught Bobby how to fly, refined Matt's piloting skills. On his sixteenth birthday, Matt soloed his grandfather's 1928 Travel Air 4000 biplane.
Matt is now proficient in over 80 types of airplanes ranging from the Piper Cub to the North American B-29. He is also a fully rated flight instructor and now has almost 4000 hours of total flying time and currently resides in Siloam Springs, AR. Matt is also an accomplished radio-controlled model airplane pilot. Like his father before him, Matt learned most of his aerobatic skills by flying R/C models and later refined them in the Super Decathlon. Bobby gave Matt two hours of aerobatic instruction which focused mainly on slow rolls. Bobby said, "Almost every aerobatic maneuver is based on a slow roll. If you can master the slow roll, you can master anything."
Matt performs the daytime aerobatic display in the Beech 18 that his father Bobby perfected so many years ago. By lacking the intensity night show, this display has been described by many as "the most graceful and beautiful performance the airshow industry has to offer."

Matt Chapman
Embry-Riddle Aeronautical University is proud to sponsor Matt Chapman. Matt personifies what we love about aviation – the thrill of expanding the envelope in what is known about flight, the credentials and expertise to make that possible, and the passion for doing it right and doing it well. Matt is recognized as an extraordinary aerobatic pilot who thrills millions of airshow fans each summer. He began flying aerobatics in 1984 and quickly worked his way up to the highest level of competition aerobatics – the Unlimited category. Recognized for his skills, he won one of only five slots on the U.S. Unlimited Men's Aerobatic Team in 1996 and 1998.
At the 1998 World Aerobatic Championships (WAC), Matt was the highest-ranking American pilot, finishing third in the world with a bronze medal. He led the Men's Team to a silver medal. Along with this impressive finish came the coveted Hilliard Trophy, awarded to the highest finishing U.S. pilot at the WAC.